Automotive Components Division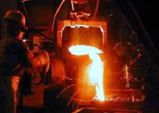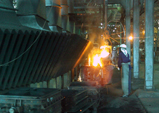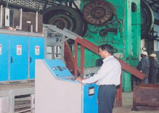 Automotive components division

Hindustan Motors' components division comprises Accu Cast (casting unit) and Accu Forge (forging unit) which provide engines and transmission and axle components for HM vehicle business and also cater to established OEMs.

Accu Cast
Accu Cast was established primarily for HM's internal consumption. Later on, it started catering to other well established OEMs. The manufacturing facility includes 2-tonne dual track induction furnace which can melt up to 1500 tonnes of metal per month. Moulding facilities include three pairs of ARPA 900 machines and three pairs of ARPA 450 machines which have capacity to mould 1200 tonnes of castings per month. Further, the unit possesses automated sand plant and facilities for fettling and machining. It also has a well-equipped laboratory with spectrometer apart from full-fledged testing facilities. The unit also possesses well established facility for machining.

The unit currently manufactures all types of grey iron, SG iron, steel and aluminium pressure die castings for passenger cars, LCVs, HCV and tractor segments. Accu Cast specializes in manufacturing of intricate castings like 3-cylinder and 4-cylinder blocks, heads, gear box housings, manifolds, SG iron casings, cover, wheel hubs, aluminium gear box extension, steering arms etc. The unit can produce grey iron/ SG iron/ steel castings ranging from 5 kg to 500 kg unit weight and gravity die castings ranging from 1 kg to 25 kg unit weight.

Accu Forge
Accu Forge too was established primarily for the company's own use. It has now started catering to well established OEM customers. The manufacturing facility includes 6000 T, 2500 T, 1300 T presses with induction furnace and 5" upsetter, and can, altogether, forge 1300 tonnes/month. The unit has in house facility for heat treatment, lab with spectrometer and all other necessary facilities. The unit has excellent facility for design, simulation and model development. The unit has a well established die shop with VMCs and all dies are being developed in-house.

The unit, currently, manufactures all types of profile forgings catering to passenger car, LCV, HCV and tractor segments and specializes in manufacturing intricate forgings like 2- cylinder, 3-cylinder, 4-cylinder crankshafts, camshafts, stub axles, spindles, draw hooks, all types of gears and shafts for reputed customers. The unit has the capacity to produce forgings ranging from 1 kg to 75 kg unit weight.